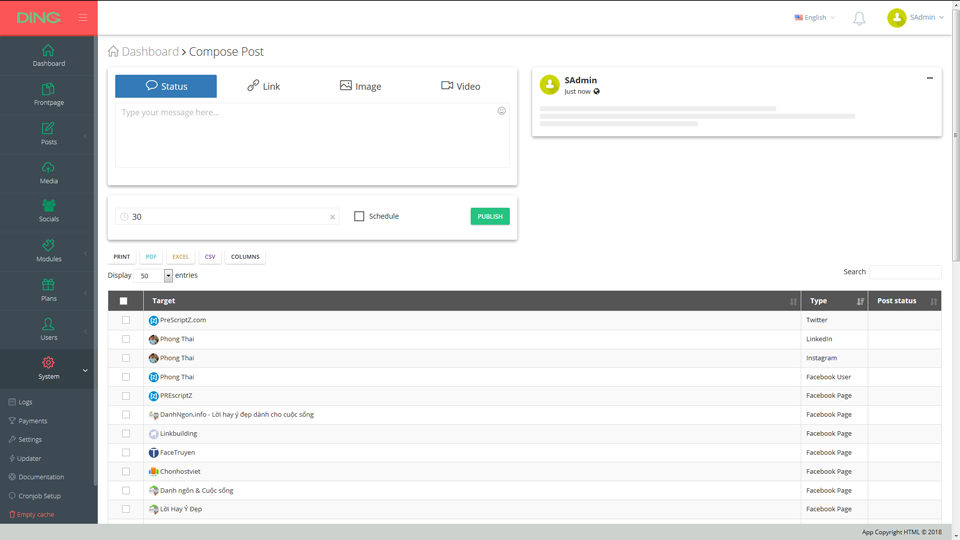 Thank so much for purchasing our DingPost
Please help us by purchasing Extended License if you want to charge end users
By default, DingPost is installed with Development Mode is OFF, in order to enable this mode, please open "your/path/to/DingPost/app/common.php" and change $psz_app_in_dev to true.
With Development Mode is ON, there are few rules you should notice:
- All PHP errors displayed to all end users, and still logged into the file "errors.log"

- Many very important tasks are disabled, such as: change super administrative account's password & email
By default, DingPost uses PHP mail() function to send emails to users for tasks such as: new registrations, payments, password changes, etc.
But DingPost is also implemented PHPMailer as alternation. And it's super easy to set PHPMailer as default mailing function, by using your GMail or Yahoo Mail accounts. In order to perform this task, please follow these 2 very simple steps:
Rename /app/includes/PSZMailer.settings.php.config to PSZMailer.settings.php, then open this renamed PHP file.
Fill your account details into $PSZMailer_setting then Save changes


<?php
$PSZMailer_setting = array(
'username' => 'youraccount@gmail.com',
'password' => 'your-password'
);
?>

From now, all emails will be sent by your GMail / Yahoo Mail account by default.
CAUTION you'll need to switch "Less secure apps" to ON if you're using GMail.
By default, DingPost displays the dropdown select of supported languages on both frontpage (homepage) and application page. In order to add / remove a supported language, please open "your/path/to/DingPost/app/common.php" & edit variable $PSZ_APP_LANGUAGES
Install DingPost
Because DingPost is a PHP script, so we need an already installed PHP web-host that working well. Basically, you'll need the information below to setup DingPost:
A MySQL database name with Collation should be set as Unicode (utf8_unicode_ci)
A database user with password that can work on the database above
An email for admin account
To get started, you only need to upload the extracted directory of DingPost to your site host and on browser just go to install page, enter all required fields to start installing.
CAUTION if you install DingPost on a shared host, please contact your web-host provider for FTP upload information or MySQL database issues.
Local Development / Test
It's better & faster to test DingPost on local machine enviroments. This section guides you how to create an enviroment that may run DingPost look like a real live system. In this tutorial, we may only give you the instructions to create a system on Windows OS and we also assume your desired domain is yourdomain.com. For other OS, please find different solutions, it's also very easy.
Localization
DingPost's Localization is really very simple & easy. You even do not need any tool except a text editor, because DingPost uses PHP language files for showing the text. DingPost has a default language file (en.php) in languages directory, you only need to translate all strings to other languages easily & quickly.
For more new other strings, it's also easy, just follow our instructions in DingPost's Multilingual support to manage DingPost's languages better.
SPECIAL you just put the translated language PHP file into the languages directory, the platofrm shall care the rest.
Cronjob Setup
In order to run all scheduled posts, cronjobs must be configured on your hosting. You will need to setup cronjob that called every minute with below command:
wget -q --spider https://www.yourdomain.com/app/publish/